About BRIDX

Bridx provides "Environmental resources" to people not only in Japan but anywhere worldwide.
We contribute to society based on the accomplishments of our system research and developments over the years, as well as the growth and sales of energy saving products.

The recent circumstances surrounding our business environment, such as the issue of global warming has changed our lifestyles drastically. However, we believe that this has also provided us the opportunity of expanding our business.

With our energy saving products and system consultation based on being "Eco friendly", we aim to open new business fields and devote ourselves to the improvement of our company value and contribution to society.
Naoki Hashimoto
Chief Executive Officer
Bridx Corporation

Contribute to the realization of an environmentally friendly recycling economic system.
Devote effort in creating a harmonious environment for sustainable development of corporate activity.
Sincerity and pride is the origin of our company activities.
Endeavor to self-improvement and take initiative in technological development.
To overcome new challenges with passion and individuality.

Our company logo of the Earth represents "the blue of the sea and green of the land." Our eco-friendly technology and corporate name in the elliptic ring exemplifies our company's contribution to being ecologically efficient. We aim for realization of an enriched human society, which produces and creates a well-balanced environment with "the blue of the sea and green of the land".
Established July 2010

Trade name
Bridx Corporation
Chief Executive Officer
Naoki Hashimoto
Tokyo Office
Mizorogi Dai-ichi Bldg. 5F, 1-5-13 Shinjyuku, Shinjyuku Ward,
Tokyo, 160-0022
Mail
info@bridx.co.jp
Date of Incorporation
March, 1991
Capital stock
JPY 10,000,000
Function
Research, Production, Sales and Wholesale
Participating group
CHAdeMO Association
Japan Institute of Invention and Innovation
Tokyo Chamber Of Commerce And Industry
Foundation of Social Insurance Association Tokyo
Tokyo Metropolitan Small and Medium Enterprise Support Center
Our Banks
Mizuho Bank, Ltd.
Bank of Tokyo-Mitsubishi UFJ
Sumitomo Mitsui Banking Corporation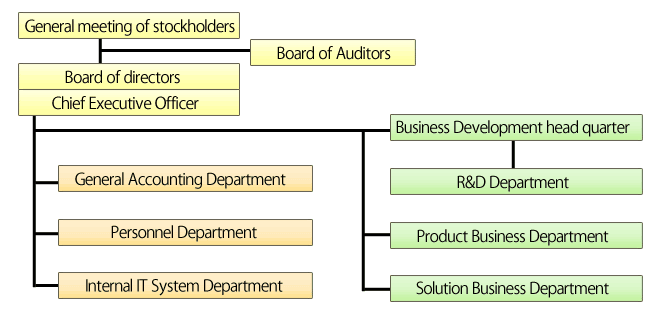 【Tokyo Office】
Mizorogi Dai-ichi Bldg. 5F,
1-5-13 Shinjyuku, Shinjyuku Ward,
Tokyo, 160-0022
Phone:81-3-6380-0511

1 minutes on foot from No.2 exit of Shinjuku-gyoemmae Station, Tokyo Metro Marunouchi Line.
15 minutes on foot from south exit of Shinjyuku Station, JR Line.